Nittany Beagle Rescue - Become a Member
Become a Member of Nittany Beagle Rescue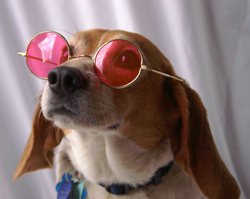 Having a beagle is like looking at the world through rose-colored glasses
Become a member of Nittany Beagle Rescue and join in our effort to help save and find new homes for lost and surrendered beagles! An annual individual membership is $25.00. An annual family membership is also $25.00.
As a member, you will receive an annual subscription to Nittany Beagle Rescue's newsletter. Members also receive a thank-you card and a Nittany Beagle Rescue sticker. This is a non-voting membership.
You can complete the online membership form and pay by credit card. Your membership fee will be processed using PayPal, a global leader in online payment services. You can use PayPal even if you don't have a PayPal account.
Nittany Beagle Rescue is a nonprofit 501(c)(3) organization, and your contribution is tax deductible to the extent permitted by law.
Online Membership Form
Please answer a few questions and then click on Become a Member below. You will be taken to PayPal to complete your membership application.