Nittany Beagle Rescue - Happy Tails - Pokey
Pokey · Adopted 2004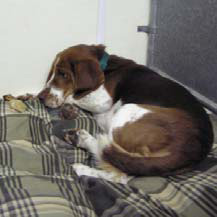 Happy Tails
The Paws Extravaganza 2004 holds special meaning for my family this year – while volunteering that afternoon, I was asked to work with a Beagle that was staying at Lyons Kennels in Bellefonte. The following Monday, I began two weeks of daily trips to Lyons to work with Pokey Puppy.
Pokey was horribly frightened by the kennel, by people, by loud sounds, afraid to eat, afraid to walk, and just shook; he was so intimidated by life. I usually began my visits by just holding him and talking to him. The third day, I took him outside and found that he was willing to walk with me (his tail held tight under his belly). We then started taking daily walks up a dirt road behind the kennel.
Each day was a little better for Pokey – eventually he would be waiting in the run and would come inside as soon as he saw me approaching his pen. I received permission to take him home to bath him – my husband helped to hold him and we comforted him through two washes and rinses. Pokey spent a good part of that day sitting in my husband's lap. We also found that he enjoyed, very much, being with our other dogs. We have another abused dog that has been with us for a little over a year – Buddy seemed to sense the fear this little Beagle brought with him and kind of took him under his wing that day.
It was so hard taking him back that evening – two days later, my husband and I opted to make Pokey a full-time member of the family. I took him home again to stay.
Pokey has a long way to go, however, he is a happy puppy – he enjoys walks, loves to run and play with the other dogs, and is very gentle with our cats. He will greet me with such glee; he eats well, and enjoys throwing rawhide bones and then fetching them. He is frightened by new faces in our home, but finds comfort in going to his cage when company arrives.
No one can appreciate how wonderful it is to see this little guy actually run through the yard, tail wagging, playing with our other three dogs. What a wonderful, loving, little guy – life works in mysterious ways and we feel very blessed that Pokey found his way to us.