Nittany Beagle Rescue - Happy Tails - Cody
Cody · Adopted 2004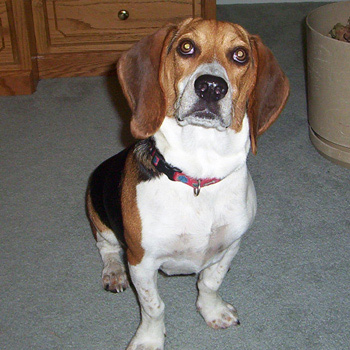 Happy Tails
I adopted a beagle named Cody from NBR in October of 2004. I wanted to let you all know that he has been doing wonderfully and is a fantastic dog and dear friend to my mother and me.
Since we adopted him we have taught him a few new commands like speak and sneeze. Yes, that's right, my mom taught him to sneeze! Don't ask me why, but she gets a kick out of it.
Cody is no longer food aggressive, but he does have some separation anxiety and doesn't like to be left at the house by himself. At night he sleeps at the foot of my bed or on a big pillow on the floor of my mother's bedroom. Cody loves be outside and to chase rabbits.
We just wanted thank you for allowing me to adopt him, and we look forward to future adoptions from NBR.