Nittany Beagle Rescue - Princess Di
Princess Di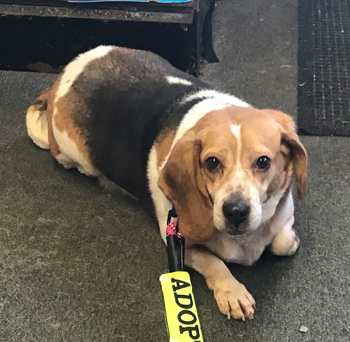 Hi! I'm Princess Di, but you can call me Di for short. Some people call me Diamond because I'm precious like diamonds! I'm a 5-year old tricolor female beagle. I'm a very friendly & sweet girl! I LOVE people, & I love butt scratches. I adore attention! I was living in a barn, so I'm used to having some room to walk around. I've been around children of all ages, other dogs & cats, & I'm good with all of them. I will need work on housetraining & house manners since I don't know what it's like to live in a house. But when I was at the NBR showing I told my handler that I wanted to go outside - so I might be pretty easy to train if you keep an eye on me! I am quite energetic! I like to be outside & so a home with a securely fenced yard is best for me. I'm a little overweight, so I need a home who will take me for lots of walks & get the extra weight off! I'm living in a boarding kennel right now & I'm anxious to find a home! While I've been around children of all ages, I did not live with them. So I will be placed in a home with children who know who to properly treat a dog (about 8 years or older) or no children. I'm up-to-date on vaccines & spayed. Please think about making me part of your family!
Princess Di's Sponsors:
Princess Di currently has no sponsors.