Nittany Beagle Rescue - J.J.
J.J. · Adopted 2020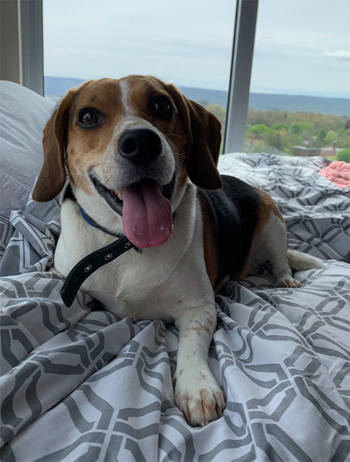 Bio at the Time of Adoption
Hi! My name is J.J. I'm a 3-4 year old male beagle. I'm a happy & lovable guy! I love to be held & kissed. (I like to be held like a baby!). I'll give you lots of love back! I also like to play tug-of-war. I'm fine with older children (say 10-12 and older). I love lots of attention, and I would be happy in a home where the older children (and adults!) are able to give me lots of love! However, I'm not good with very young children. I seem to be possessive of my food with other animals. And so, I would prefer a home with no other dogs. I like to sleep in bed with my person & to hang out with them on the couch. I can be nervous at first in new situations. But if you give me lots of love & attention, I'll get over it quickly! I'm housetrained and neutered. I will stare at you when I need to go outside. I used to being home alone for 8 or 9 hours, and I'm fine. I've never been crated. If you are sleeping & I need to go out, I will put my paw on your arm. I do get carsick, and so I need a person who will leave me home when they do errands. Please think about making me part of your family! Click on my page to see me smiling!