Nittany Beagle Rescue - Delilah
Delilah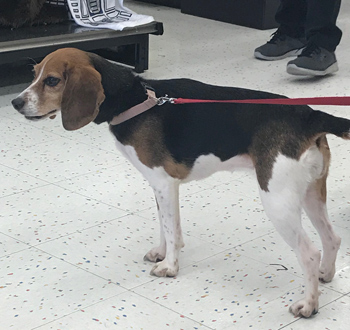 Hi! My name is Delilah! I'm a very sweet, active 7-year old female tricolor beagle. I'm just a little girl and weigh only 20 lbs., but I have lots of energy! I LOVE to go for walks! It may take me some time to warm up to everyone, but once I do, I love to sit in your lap & give kisses. I would love to sleep in bed with you at night, but I'm also OK sleeping in a dog bed in your bedroom. I love to play with toys & will rip all of the stuffing out of them. I don't like bigger dogs, & would do best with a smaller, calm female dog in the house (or be the only dog!). I can be possessive over my toys & food. I'm housetrained & crate trained. Please think about giving me a home! Click on my page to see a different photo of me!
Delilah's Sponsors:
Lee and Kathie Grenci - in honor of Mack Grenci (former NBR dog)

Tommy Owens - in honor of Lee, Kathy and Mack
Thank You!