Nittany Beagle Rescue - Lacey
Lacey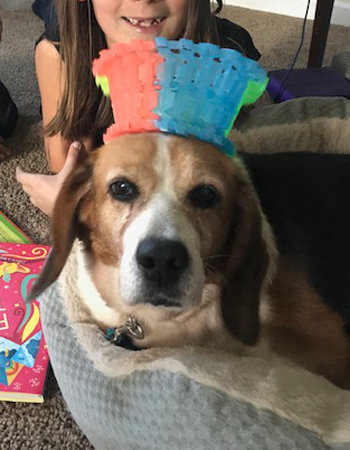 Hi! My name is Lacey & I'm an 8-10 year old female tricolor beagle. I'm an easygoing girl, & I'm very affectionate & loving. I'm good with other dogs, cats, and children. (I've been around children as young as 5 years of age). I'm quiet for a beagle also! I'm on the reserved side, and I'm submissive. I like my baths & I like to ride in a car! I even walk well on a leash! I was found as a stray several months ago, & the people who rescued me took care of my vetting needs. I was in pretty rough shape when they found me. (Unfortunately, they aren't able to keep me). They think I lived as an outside dog & was used for breeding. I've made a lot of progress learning house manners since then. I'm still working on house training, but I'm sure I'll get it! I don't really like stairs - I can go up 3 steps OK, but I don't like doing more. I am on Proin for urinary incontinence & that seems to be working. I'm a very gentle and sweet girl! I've had a rough life & I'm anxious to find my forever home! Please think about making me part of your family! Click on my page to see me at a princess party with children in my foster family!
Lacey's Sponsors:
Amanda Johnson - in honor of Cooper and Mary Belle

Anonymous - in honor of Poppy and Lucy
Thank You!