Nittany Beagle Rescue - Adopt a Beagle
Adopt a Beagle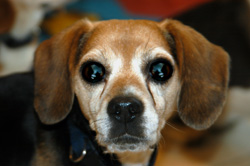 The adoption fee for beagles is $250.00. The refundable spay/neuter deposit for beagles adopted before they are old enough to be spayed or neutered is $50.00.
Nittany Beagle Rescue conducts adoptions, in person, at various locations depending on where the beagle is being fostered or shown. We do not conduct adoptions online.
» Print Only Application Form (pdf)
» Fill-and-Print Application Form (Word)
You can apply online, in person at one of our showings, or you can mail your application to us. To apply online, just complete the Fill-and-Print Application Form and email it to us at info@nittanybeaglerescue.org.
Potential adopters must provide veterinarian and personal references, and sign an adoption contract. One of the stipulations in the contract is that the beagle will be kept as a house pet and must be returned to us if the adopter can no longer keep the beagle.
We adopt primarly to Pennsylvania residents, with occasional exceptions. If you are interested in adopting from us and you live in another state, please email us at info@nittanybeaglerescue.org to ask if we would be willing to consider your application.
All adoption applications are reviewed for completeness when submitted. To manage the workload of our volunteers, we only process your application once you indicate which dog you would like to adopt. You are welcome to submit an application without specifying a dog. Your application will be reviewed for completeness and then put on hold until you let us know which dog you would like to adopt, among those we currently have available for adoption.
Once you indicate which dog you would like to adopt, please allow us up to two weeks to process your application.
All our beagles are spayed or neutered at 6 months of age, or depending on the specific case history of the beagle, upon the recommendation of the veterinarian charged with the beagle's care. If you adopt a beagle before it is old enough to be altered, you must agree upon adoption to have the beagle spayed/neutered when it reaches 6 months of age or an age deemed appropriate by your veterinarian.
We grant refunds for spaying or neutering of beagles that are adopted out unaltered according to the rates listed on this page. We must receive proper documentation from the veterinary practice that performed the surgery before issuing any refund.
All our beagles are microchipped and up-to-date on distemper and rabies shots prior to adoption.
You can check out our Frequently Asked Questions about adoption for more information.