Nittany Beagle Rescue - Quagmire
Quagmire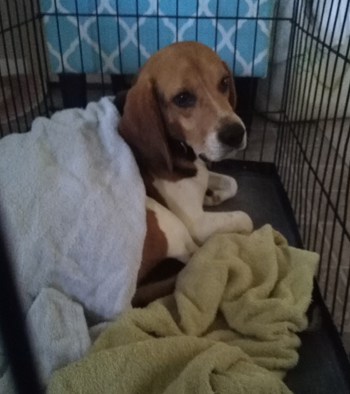 Hi! My name is Quagmire, but you can call me Quag or Beagle for short! I'm a 6-year old male tricolor beagle. I'm a really sweet fellow! I'm very loving & affectionate! I'm attentive to my people. I'm also playful & very active. I'm fantastic in the car! I've been around children aged 4 to 10 years, & I'm good with them, although I will jump on them. I'm lived with another dog & I'm good with other dogs. However, I like to be dominant. I have longer legs than average for a beagle. And I'm quite trim! I do have some separation issues, so it's necessary to keep me crated when no one is home. I like to eat people food, & will get into the garbage. So it's best to put the garbage where I can't get it. When outside, Quag needs to be in a fenced area or on leash, which is normal for a beagle. He likes to dig - which is normal beagle behavior also. Quag is housetrained & used to going outside every few hours. He will claw at the door to let you know he needs to go outside. However, he will dribble pee when he's excited. He will also mark his territory. Quag isn't neutered yet. Nittany beagle Rescue will have him neutered & get him a full check-up. Quag is living in a boarding kennel & desperately wants to be part of a family! Please think about making him part of your home! Click on Quagmire's page to see another photo of him! ADOPTION PENDING.
Quagmire's Sponsors:
Tommy Owens - in honor of Mack, Kathie and Lee
Thank You!