Nittany Beagle Rescue - Hennessy
Hennessy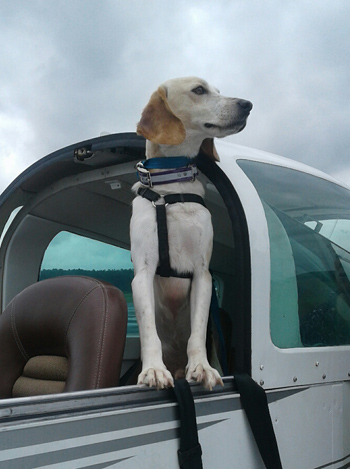 Hi! My name is Hennessy & I'm a wonderful male lemon & white beagle mix. I'm quite handsome! I'm long-legged for a beagle, and maybe I'm part foxhound - it's hard to say. But I'm definitely all hound! I'm probably about 2 years old. I'm from a rescue in Virginia, & Andy & Joy, the pilots, flew me to PA so Nittany Beagle Rescue could find me a forever home! In Virginia, I was in a foster home that provided child care, & I was great with the kids there! I'm good with other dogs, although I don't like it when a dog jumps on me (at least not when I first meet them). I'm already up-to-date on vaccines & will be neutered before I'm adopted. I need some work on housetraining, but I'm a bright fellow & will probably get the idea quickly. I was probably a hunting dog at one point, and so it's important I always be on a leash/tie-out or a securely fenced yard when outside or else I will take off. (I was originally found as a stray). I ride really well in a car - I just curl up in the back seat & go to sleep. I haven't been around cats. If they run from me, I may chase them. Please think about making me part of your forever family. I'm very anxious to be part of a loving home! Click on my page to see me looking out the airplane cockpit before taking off from Virginia!
Hennessy's Sponsors:
Hennessy currently has no sponsors.