Nittany Beagle Rescue - Maxie
Maxie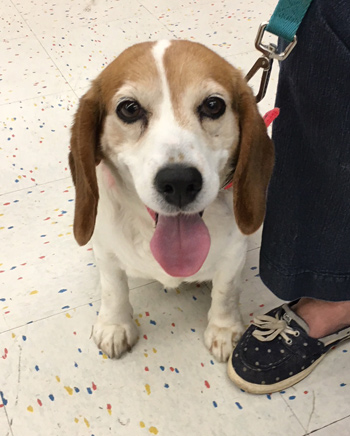 Hi! My name is Maxie & I'm an very sweet 8-year old female tricolor beagle. I am a very loving girl! I belonged to an older gentleman who was no longer able to keep me & several other beagles. I came to Nittany Beagle Rescue with my daughter, Kelly, who is also available for adoption. We are not bonded & so we will be placed separately. But I am so ready to live in the house with my family! I am affectionate & easygoing! I'm also playful & active! I get along well with other dogs. I've been exposed to children & am fine with them. I'm just a loving, happy girl, & I need a home! I haven't been around cats, but I'm probably fine with them. I lived outside all my life, although I did come in the house on really cold nights. I'm not housetrained yet but I'm a smart girl. So my family just needs to have some patience while they teach me house manners. I am crate trained though. I ride well in a car. I will be spayed before I'm adopted. I'm living in a boarding kennel & desperately want to be part of a family! Please think about fostering me or making me a permanent part of your family! Click on my page to see a different photo of me!
Maxie's Sponsors:
Nathan Shultz & Kylie Barony - in memory of Gussie Shultz

Zip's Gift, Inc./The Bonacci's
Thank You!