Nittany Beagle Rescue - Molly & Jake
Molly & Jake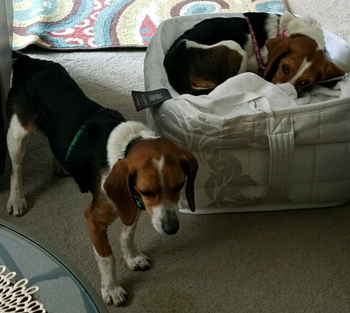 Meet Molly & Jake! They are a very sweet beagle pair! Molly & Jake are quite bonded so they will be placed together. Molly & Jake are about 2 years old. They are affectionate & loving dogs! They are also extremely active, as most 2-year old beagles are. Molly & Jake are playful, happy dogs! They especially like to play tag. Jake is a little insecure & timid in new situations, but then he warms up. They are good with other dogs & cats. They are also quite good with the 12-year old child in the home they are staying in right now. They have not been around young children, and so we will place them in a home with children aged 10 & older who know how to treat a dog, or a home with no children. We think Molly & Jake lived outside, & so they are working on housetraining in their foster home. They seem to whine when they need to go outside. They will run away when they get loose, as most beagles do. So they need to be in a securely fenced yard or on leash when outside. They like to sleep in bed with their person at night. They love to be with their people, but are also OK alone. They respond well to praise. Molly & Jake are already fixed, & up-to-date on vaccines. They are under 20 lbs., but they are both very underweight & we are working on putting some weight on them. They desperately need a home! Please think about making them part of your family! Click on their page to see another photo of this pair!
Molly & Jake's Sponsors:
Anonymous - in honor of Poppy and Lucy
Thank You!