Nittany Beagle Rescue - Beth Ann
Beth Ann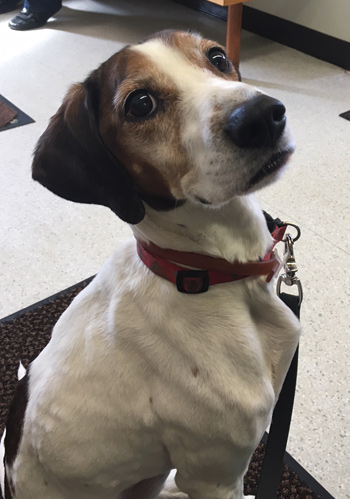 Hi! My name is Beth Ann & I'm a very sweet beagle/whippet mix. I'm about 6 or 7 years old. I am very affectionate & loving! I'm very good with children of all ages. I've lived with a cat & another dog, & got along fine with them. Nittany Beagle Rescue is working on helping me gain some weight. I originally came from a place where they might have been abusive. So I need a home where the people are gentle and don't raise their voices. I lived in a home for the past 6 months, & I like to hang out on the couch with my people. At night, I sleep either in bed with my people or on a dog bed in the bedroom. I am partially housetrained, & I need a family who can work with me 1-on-1 to help me become fully housetrained. In order for me to become fully housetrained, I may need to be walked on a leash rather than let out in a backyard. Right now I weigh 27 lbs. Beth Ann is up-to-date on vaccines & will be spayed before she is adopted. She is living in a boarding kennel right now & is anxious to meet her forever family! Click on Beth Ann's page to see another photo of her!
Beth Ann's Sponsors:
Zip's Gift, Inc./The Bonacci's - in memory of Our beagle, Posey
Thank You!