Nittany Beagle Rescue - Peanut & Maggie
Peanut & Maggie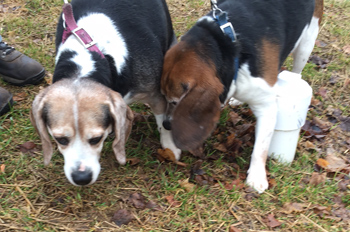 Meet Peanut & Maggie! Maggie is Peanut's mom & she has the red collar, while Peanut has the blue collar. Peanut has always lived with Maggie, & we want to place them together. Both Maggie & Peanut are very affectionate & happy dogs! They are also very friendly & outgoing! Peanut is an active & playful boy, while Maggie prefers to hang out on the couch! Peanut is also easy going. They have lived with a cat & did fine with the cat. They've also been around children of all ages. Maggie will let you know when she needs to go outside by coming to you or she may bark. Both Maggie & Peanut like to play tug of war. Peanut also likes to play fetch & ball! Peanut would prefer to sleep in bed with you at night, while Maggie is content to sleep close by. They ride really well in a car. Both dogs are housetrained, although Peanut might have an occasional accident. Also both are crate trained. If Maggie & Peanut get lose, they will take off. Maggie, especially, will just keep on going. So it is critical that they be in a securely fenced back yard or on leash when outside. Maggie is already spayed & Peanut will be neutered before he is adopted. Maggie is 10 years old & Peanut is 7. They are currently living in a boarding kennel & desperately need a home. Please think about making room in your heart & home for these two very sweet dogs! Better pictures are coming soon.
Peanut & Maggie's Sponsors:
Anonymous - in honor of Poppy and Lucy

Zip's Gift, Inc./The Bonacci's - in memory of Our beagle, Posey
Thank You!