Nittany Beagle Rescue - Lady
Lady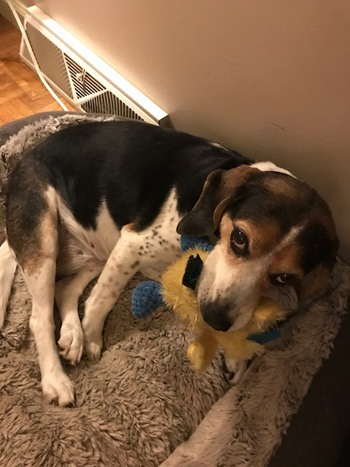 Hi! My name is Lady & I'm a very sweet 10 year old female beagle. I'm very affectionate & loving! I'm also a happy & easygoing girl. I'm active & playful, & I like to play fetch & tug-of-war. I love my toys! (Sometimes I chew them up!) It may sound like a growl when you take my toy, but I'm not aggressive at all - that's just the sound I make. Lady is a sensitive soul. She was not raised with children, & since she is older, a home with all adults or teenagers would be best. Lady is housetrained, & used to going outside 3 times a day. Lady will bark at the door to let you know when she needs to go outside. Lady was raised as a hunter, so it's important that she not get loose outside. She LOVES to go for walks! Lady is starved for attention & while she has lived with other dogs all her life, she would prefer to be the only dog. When out on a walk, it's best to introduce her to other dogs slowly. She is fine with cats, but will chase them. At night, Lady will sleep somewhere in the house - maybe in bed with her person, or maybe on the sofa. It might be necessary to crate her since she can open some refrigerator & cabinet doors. She is OK with that, but she wants to be with her people & so it's important that she be with her people after they get home from work. The best way to get Lady to listen is to praise her & offer treats. Please think about making Lady part of your family! She is about 25 lbs. & will fit right in! Click on Lady's page to see a photo of her with her toy!
Lady's Sponsors:
Nathan Shultz & Kylie Barony - in memory of Gussie Shultz

Zip's Gift, Inc./The Bonacci's
Thank You!