Nittany Beagle Rescue - Nancy Anne
Nancy Anne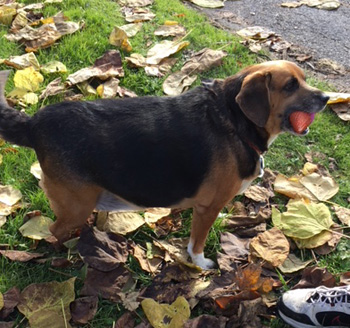 Hi! My name is Nancy Anne & I'm the sweetest girl! I'm about 7 years old & I'm probably a beagle mix. I'm a mild mannered girl & I love to be with my people! I'm very sensitive to my person's needs. I also love to cuddle! For the most part, I'm good with other dogs. However, I had a bad encounter with a pit bull & now I'm not too sure about pitty looking dogs. I've had a very rough life. I was abused & neglected earlier in my life. I was starved & now I tend to eat too much. So I'm overweight & need a diet. I am also possessive over my food, which is natural for a dog who has been starved. My ears are bumpy on the inside because of chronic ear infections that weren't treated. In my prior life, I was kept in a dog box outside with no insulation. Also, I was hit by a tractor & tailor when I was young, & so my nasal cavity is messed up. When I breath heavy it sounds like I'm growling, but it's just my nasal cavity. I'm housetrained & I'll be spayed before I'm adopted. At the vet's office, I didn't like it when they lifted me to the table & restrained me. So it's possible Nancy Anne doesn't like to be hugged or cornered. As we learn more about Nancy Anne, Nittany Beagle Rescue will post it. We think a home where she can lean against her person & be petted & loved would be perfect for her! Nancy Anne has been exposed to children & was good with them when they visited. Please think about making Nancy Anne part of your family! Click on her page to see another photo of her!
Nancy Anne's Sponsors:
Anonymous - in honor of Mack, a Nittany Beagle Rescue Dog
Thank You!