Nittany Beagle Rescue - Gray Boy
Gray Boy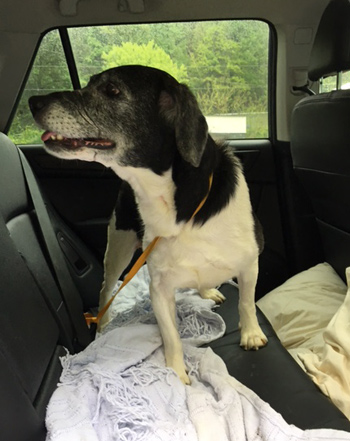 Hi! My name is Gray Boy! I am a very friendly male beagle mix! I am staying in a foster home & I'm great with the other dogs & cats that live there! I am such a sweetheart! I am very gentle! I love to play in water! I am already neutered & up-to-date on vaccines. At some point, someone was very mean to Gray Boy & tied or taped his mouth shut. You can see the scars around Gray Boy's muzzle. Gray Boy is housetrained & crate trained. Gray Boy was originally a stray, so Nittany Beagle Rescue will place him in a home with older children or no children (as a precaution since we don't know how he is with young children). He does fine with the cats in his foster home, although he will chase them sometimes. Gray Boy is a dominant dog, and so he will be placed in a home with no dogs or only submissive dogs; also he is possessive with his food around other dogs. Gray Boy is probably about 8 years old, and weighs about 30 lbs. Click on Gray Boy's page to see a different photo of him!
Gray Boy's Sponsors:
Zip's Gift, Inc./The Bonacci's

Stefani Harchak - in memory of Gibson my old beagle
Thank You!